Every country has its own rules that determine the colour of car number plates, and the UK is no different. Exceptions are rare, and the police strictly enforce the law.
What colour number plates are legal in the UK?
The number plates on your vehicle must:
be made from reflective materials
display black characters on a white background at the front
your rear plates should display black characters on a yellow background
If you fitted your plates after September 1, 2021, the characters should be a single shade of black.

Why are number plates in the UK different colours?
It helps drivers tell which direction other vehicles are travelling.
By having a yellow number plate at the back and a white one up front, it is easy to tell whether a car is travelling towards you or moving away.
Black lettering on a white background is also the clearest combination to help motorists identify a registration number, for example, after they have witnessed an accident. A yellow background, with black characters, is next easiest on the list for human eyes.
Can I display a black and silver number plate?
In 2015, the Driver and Vehicle Licensing Agency (DVLA) said vehicles manufactured over 40 years earlier were eligible to display the traditional 'black and white' number plates (white, silver, or grey characters on a black background).
A more recent update states that now only cars constructed before January 1, 1980, can do so providing the owner has:
applied to the DVLA
registered the car within the 'historic vehicles' tax class
Demon Plates make these plates, using non-breakable acrylic rather than pressed metal. Please note that we can only take these orders on the phone.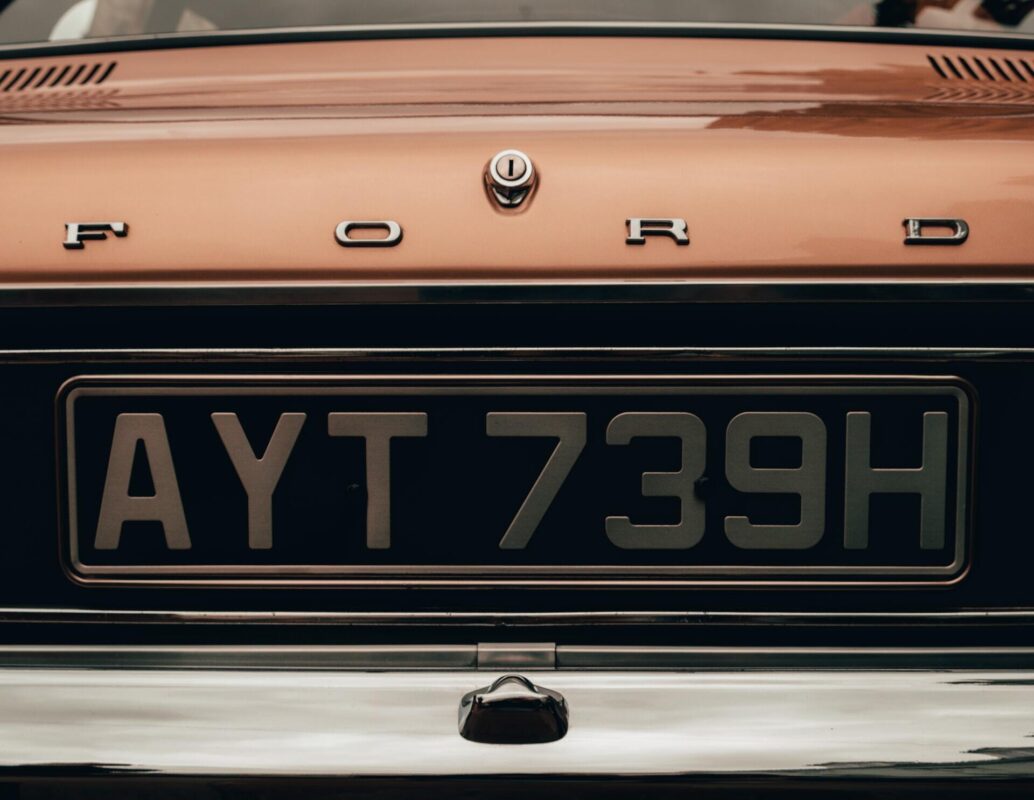 What are green number plates?
The UK Government introduced green number plates for eligible vehicles in December 2020.

Part of an initiative to clean up road transport and reduce emissions during a transition to all-electric options, they are an easy way to identify zero-emission vehicles. However, the plates themselves aren't a different colour to conventional registration plates; instead, they have a green stripe on the left-hand side.
What do red and white number plates mean?
These are trade plates, and are used to show a vehicle is being used temporarily for one of a narrow range of purposes.
Some examples include:
Road testing of a vehicle following manufacture, repairs, or servicing
Driving a vehicle that you have purchased back to a garage
Allowing potential customers to test drive a vehicle
Car dealers, manufacturers, repairers, as well as vehicle testers, can apply directly to the DVLA for trade plates.
They can only be on one vehicle at a time, and should be at the front or rear of a vehicle (on the exterior) while not obscuring the original number plates.
Are show plates legal?
No, at least not on public roads.
Show plates are only for display - at an exhibition, for instance - and because of their often-heavy customisation, do not meet any of the legal requirements for regular use.

Demon Plates do not make them for customers.

Are tinted number plates legal?
Although tinted number plates, especially those made with smoked acrylic, can really look the part, they are not road legal. This is because the characters can be hard to distinguish in low-light conditions.
As explained above, car registration plates are required to be displayed clearly enough so the police and other drivers – not to mention Automatic Number Plate Recognition (ANPR) cameras – can easily read the lettering.
Are blue number plate lights legal?
Again, the answer is no.
As the emergency services use them, you cannot put blue lights anywhere on standard vehicles in the UK.
Current regulations state only white bulbs can illuminate number plates, allowing vehicles to see them from a distance.
How to customise your number plates
There are still ways to customise your car's number plates that abide by the rules.
You can personalise yours by selecting from our range of coloured borders. It's also possible to display a country's flag with accompanying national identifiers, as well as domed and 4D text.
Our website's FAQs section is a good place to look for further clarification. Alternatively, contact a member of our team on 0161 343 7053 and we'll be happy to assist with your query.